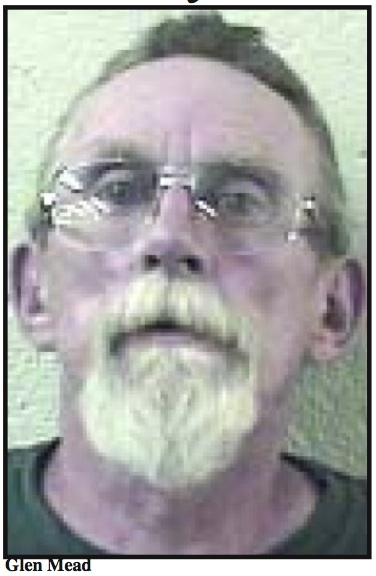 Just two weeks before he fatally shot James Taylor, Glen Mead vowed to a attendees at a Curie barbecue that if he did not received money from Taylor's father 'bullets would be flying'.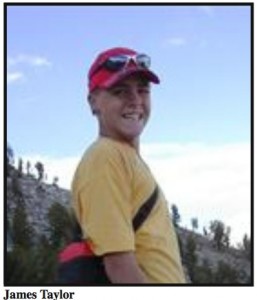 In an exclusive interview with the High Desert Advocate Wednesday night, Perette and Everett Rhodes of Cherry Creek said they were present at the barbecue when Mead made his threats.
"Glenn was coming in from Salt Lake," said Perette Rhodes. " and Mead said that if he didn't get money from Glenn, bullets would be flying. I said something like you got to be kidding and he said no, three hots and a cot were better than nothing."
Two weeks later James Taylor was dead after being shot five times by Mead and this Friday an Elko County coroner's inquest ruled the killing a 'justifiable homicide.
However the panel never heard from the Rhodes.
"We didn't contact the police or the DA because who ever heard of a man shooting another man five times walking free?," said Perette Rhodes
Currie station owner Glenn Taylor angrily denounced a coroner's inquest verdict.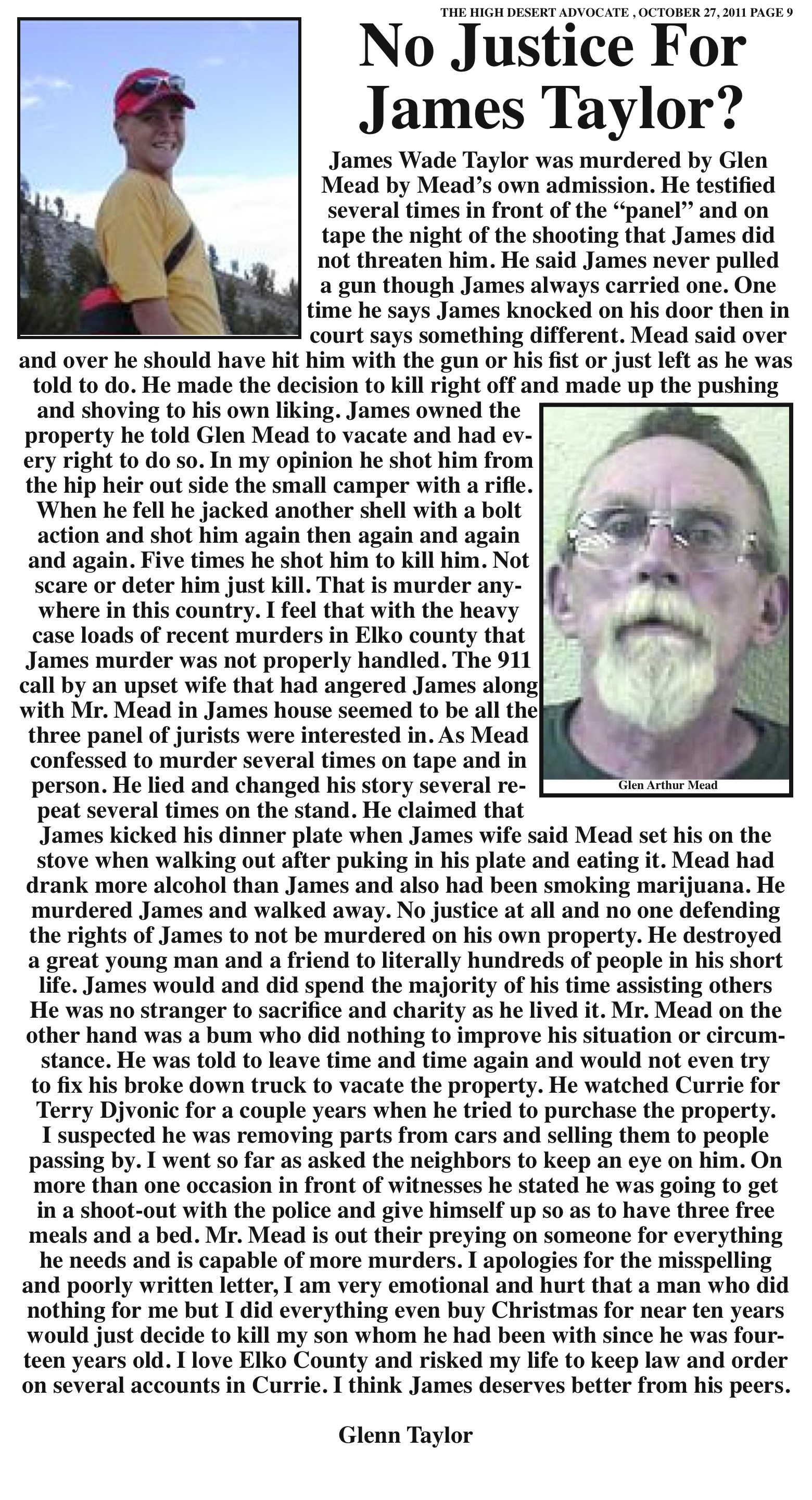 "It was completely outrageous," Taylor said. "From the first moments of the investigation to this farce of an inquest my dead son had no advocate no one representing his interest, no one caring about whether he received justice."
After seven hours of testimony Friday the three member coroner's inquest ruled the shooting a justifiable homicide in the court room of Elko Justice of the Peace Al Kacin.
"I don't blame the panel," Taylor added. "After the instructions of the judge there was hardly a way for them not to get the verdict they delivered on the other hand I have know doubt in my mind that had this case been charged and investigated properly Mead would have been found guilty in a criminal trial."
Taylor is running a full page ad in this edition of the High Desert Advocate and perhaps in other area newspapers to generate public awareness to the injustice he claims his son received.
"I hope once the public hears the facts it will bring pressure on the district Attorney's office to reopen the case and charge Mead with murder as they should have done but didn't when the killing happened."
According to Sheriff's detective Cpl. James Carpenter, deputies were dispatched at 10:30 p.m. September 4 to a trailer owned by Mead, 59, of Ely on a report of a domestic disturbance.
When they arrived deputies found a 24-year-old James Taylor, lying dead on the on the ground near the camper. He had been shot five times.
Mead was booked that Monday morning into the Elko County Jail on an unrelated misdemeanor warrant out of Ely Justice Court. His bail was $1,830.
According to Elko Sheriff Jim Pitts the incident began with a fight at a Labor Day barbecue and escalated.
A former work camp of the Nevada Department of Transportation the Currie Station located between Wells and Ely on US 93 was closed about 15 years ago and has since become a kind of a  hole-in-wall with isolation its number one draw for prospective residents.
A coroner's inquest is a rarely used tool in Elko County and reserved almost exclusively for death's where the cause is not immediately apparent.
The Rhodes statements should they be listened to by District Attorney Marc Torvinen may put the case in a whole new light. Instead of being a cowering old man in a trailer as he portrayed himself to the coroner's panel Mead by his alleged statements to the Rhodes could be portrayed as a conniving scoundrel who just 14 days before the killing vowed to kill and expressed hatred toward his employer, Glenn Taylor.
"The police, the prosecutor and the judge all had their mind made up from the beginning," the elder Taylor said Wednesday. "My son was killed September 5th. the investigation if you can call it that lasted a week. and three weeks later Mead walks out a free man. Tell me is that justice?"
"Of course we are ready to testify as to what Mead said," said Everett Rhodes. "There is no way this guy should get away with murder. I warned James to stay away from Mead. I took his threat very seriously."