Elbert Woodson the quieter of the two Montego Bay bandits quietly did not attend his sentencing hearing Monday and his whereabouts are perhaps unknown.
Unlike his much more flamboyant partner Tony Vera, Woodson kept his mouth stoically closed from the time he was arrested for robbing the casino to the day he made his $7,500 bail several months later.
However when the day came to be sentenced, Woodson like Vera a month before was a no show in Elko District Court. Unlike his partner in crime Woodson could have a second chance. While an arrest warrant was immediately issued for Vera, Woodson has a month to change his mind and report to court. According to Elko County clerk records a March 25 hearing to show cause was scheduled by judge Al Kacin for the perhaps forgetful Woodson in late March.
Woodson and Vera were the first two thieves to at least be partially successful in robbing a Wendover Casino in over 75 years.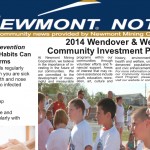 Woodson was the wheel-man in the job while Vera according to police was the actual robber a charge Vera disputed in an interview with the High Desert Advocate shortly before he was captured in Arizona two month after the crime.
Woodson was set to appear February 19th in Elko District Judge Al Kacin's court room. According to some reports Woodson agreed to plead guilty to one charge of burglary that carries with it a 10 year prison sentence in exchange for the state not branding him an habitual criminal and sending him away for life.
It was almost the exact same offer made to his accomplice Tony Vera a little more than a month ago.
Vera however was a no show for his sentencing and is still on the run from the law whereabouts unknown.
Vera and partner Woodson stole over $80,000 from the cage of the Montego Bay Casino last March. According to West Wendover Police some $81,000 was taken only $3,400 was actually recovered.
According to Vera most of the $75,000+ loot was taken by Lauren McCartney who was never charged in the robbery and was going to testify against both Vera and Woodson if the two decided to fight their charges in trial.

Vera made his charges in an exclusive interview with the High Desert Advocate shortly before he was captured by US Marshall at his girlfriend's home in Tuscon. Vera according to several of the man's friends has only a passing acquaintance with the truth.
"Vera was no good in wendover he was always up to no good n lying to everybody," wrote a blogger identified as Martino on the High Desert Advocate's webpage two weeks ago.
Also in the same interview Vera implicated his own mother in the robbery while insisting that he had not even been in Wendover during the crime.