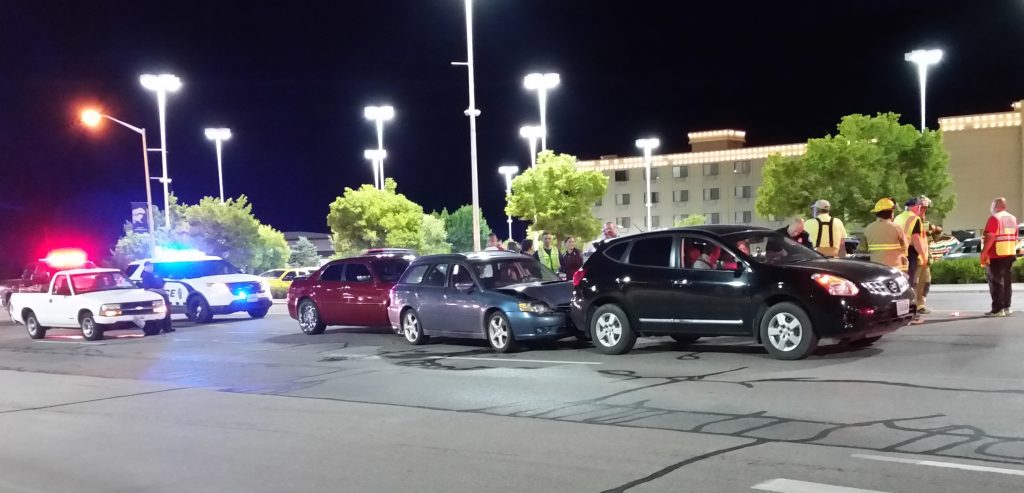 Saturday night, June 25th, West Wendover officers responded to a crash on Wendover Boulevard involving four vehicles.
Investigating officers found that Juan Salazar, 75 years old, of West Wendover, driving a White 1999 Chevrolet S10 pick-up, was traveling west on Wendover Boulevard when he struck the rear end of another vehicle stopped at a red traffic light. This caused a chain reaction that involved three other vehicles also stopped for the red light. Maria Flores (23) of Salt Lake City Utah was in the second vehicle, a Maroon 2007 Chrysler 300. The force of the impact caused the Chrysler to travel forward which struck the rear end of another vehicle stopped directly in front of her. The third vehicle was a Blue 2005 Subaru Wagon driven by a Maria Isaacs (55) of West Wendover. This vehicle was pushed forward and into the rear of the fourth vehicle, which was a Black 2013 Nissan Rogue driven by Maria Cornejo (53) also of West Wendover.

Nobody was injured, and all declined medical care. There were only minor to moderate damage to all the vehicles, one of which had to be towed from the scene. Only minor traffic delays occurred while the crash was cleared, and all lanes were opened within the hour.
Lt. Don Lininger said that Mr. Salazar had inadvertently pressed on the accelerator instead of the brakes while approaching the traffic at the red light, and that no Alcohol or speed were factors in this incident, and he was issued a citation.