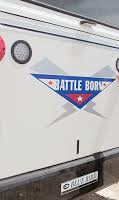 Red and blue decals with Nevada's "Battle Born" motto decorate brand new white trip-buses recently purchased by the Elko County School District.
    The buses will transport all Elko County students to sports and extra-curricular activities, replacing the old yellow Thomas buses relied upon in the past.
   Assistant Superintendent Mike Smith said that the newer bus fleet seats 46 passengers and comes with seatbelts, reclining seats, air conditioning and additional storage. "I think it makes a huge difference," said Smith.             West Wendover, Carlin, Jackpot, Owyhee, and Wells high schools will have one bus each, while Elko and Spring Creek high schools will be allotted two buses per school,  said Transportation Director Bill Micheli.
   Smith added that the buses have already been used to take Elko and Spring Creek students to state meets for baseball and softball.
  The white trip-buses along with 10 new yellow Thomas buses were added to the overall fleet this spring.