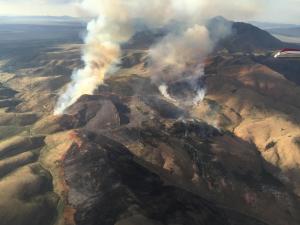 The fire that approximately burned 1,912-acre in Eureka and White Pine counties, is now 80-percent contained.  Full containment is expected by Tuesday evening, July 26, said a BLM official.
The fire is burning in priority sage grouse habitat, consuming pinion-juniper, brush and grasses.  There is no threat to private property.  Firefighters are implementing a full-suppression strategy, using all available resources to protect life and property, and resources.  Firefighter and public safety are the top priority.
The fire was first reported at about 12:15 p.m., Thursday, July 21.  The cause of the fire is unknown. 
Size:  1,912 acres
Percent Contained:  80%
Current Resources:  1 Type 2 Hand crew; 1 Helicopter; 11 Engines; 1 bulldozer; 1 water tender. 
Total Personnel:  73
For more information, go to http://bit.ly/2a6DaUS or contact Chris Hanefeld, BLM Ely District fire information officer, at (775) 289-1842 or chanefel@blm.gov