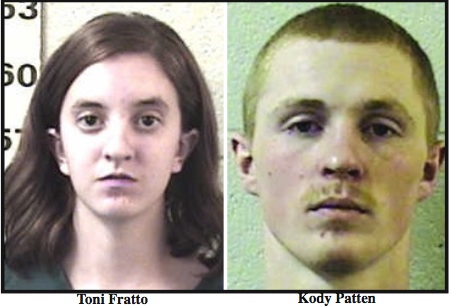 Despite claims from Kody Patten's attorneys there is little mention of Micaela Costanzo in Toni Fratto's diaries and nothing to suggest it was Fratto and not Patten who planned the 16 year old girl's murder according to a source close to the case.
"I think there is a line or two written about a year before the murder," said the source. "And it is extremely vague just that she (Toni) hated or couldn't stand her (Micaela). It was really no big deal and if it was a big deal don't you think the DA would not have gone with the plea bargain he offered her (Fratto)?"
Fratto pled guilty this January in a plea bargain with Elko DA Marc Torvinen to one count of second degree murder with a deadly weapon enhancement in exchange for her testimony against Patten who was facing a possible death penalty for his lead role in the killing.
White Pine District Judge Dan Papez imposed the harshest sentences he could on the West Wendover teen of life in prison plus 20 years for Fratto's part in the vicious killing last year of 16 year old Micaela Costanzo.
According to law Fratto must serve at least 10 years of her life sentence before she is eligible for parole and then at least eight years of the enhancement for use of a deadly weapon before she could see a release from prison. With her time already served in the Elko County Jail taken into account Fratto could conceivably serve just 17 more years in prison before she is released.
At the time of her sentencing patten's attorney John Ohlson of Reno said that for from being a dupe following Patten's orders, Fratto actually instigated the murder and that her diaries would prove it.
According to Ohlson the diaries were filled with hateful messages directed toward Mickie Costanzo that at least suggested that Fratto was an equal partner in Costanzo's murder.
While Ohlson has not back off from his contention that Fratto got off relatively easy compared to his client the Reno attorney also endorsed his client pleading guilty to first degree murder to avoid the death penalty not once but twice.
The first time in late January which Patten back out of the deal at the eleventh hour may have actually spurred Fratto to cut her own bargain with the prosecutor. As part of her deal Fratto gave a devastating affidavit that if it foreshadowed her testimony could have easily put Patten on death row.
"Before she gave her affidavit the chances of Patten getting the death penalty were pretty slim," said a source close to the case. "Yes the DA had the confession but the defense had some pretty good supposed mitigating factors as well as another defendant they could pin some of the guilt on who wouldn't testify against Kody. After her plea and especially after her affidavit the all that change. That (the affidavit) is a death penalty affidavit."
In a three and a half hour interrogation by Elko District Attorney Marc Torvinen, Fratto gave the prosecution evidence that could put Patten on death row. According to her attorneys Fratto told the District Attorney that Patten spent more than a week planning Costanzo's murder to the last detail.
"The only thing they (Patten's lawyers) have been talking about since even before Toni was sentence was her diaries," the source continued. "They have been spending more than a year on looking for mitigation anything that could persuade first a jury not to give Patten the death penalty and now to persuade Judge Papez not to give him life without parole. That probably isn't going to happen. The Judge has already said that this was the most vicious killing he has ever seen in all his years on the bench and has already given Fratto the maximum he could. So it is a pretty safe bet that Kody Patten will get life without."
Patten will be sentenced July 30. His attorneys have noticed that they will need most of the working day to present their evidence for mitigation.
"It looks like they are going to put on a show." The source said.