The Wendover community had a vigil in honor of the memory of Corbin Hillaker, the son  of WWPD Detective Brad Hillaker,Wednesday night at City Hall. Also to honor the memory his siblings Jessica Spillett and Tate McKoy Spillett and to show support to the family in this very trying time. The community was shocked, outraged and saddened by the events of Sunday in Idaho. Many came to stand, a few spoke. 
Annette Murphy long resident and always in cont act with children as she works at the West Wendover High School, could show the pain that everybody felt.
Police Chief Burdel Welsh had a few sober words in behalf of his department. And Chris Lund, a loved local preacher, also said a few words and conducted  the community in prayers.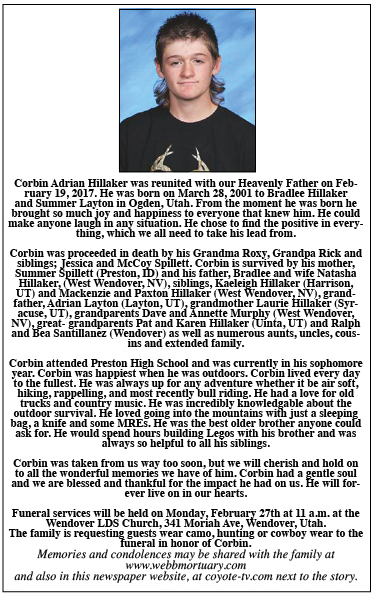 All this was after the Idaho Police had said that a father shot two of his children and his stepson while they were sleeping and then turned the gun on himself.
  Preston Police Chief Ken Geddes identified the victims as Corbin Hillaker(son of West Wendover Detective Hillaker) 15, Jessica Spillett, 6, and McCoy Spillett, 7.
   Geddes said the children were all shot while asleep in their beds by Tate Spillett, 37, who was the father of Jessica and McCoy, and the stepfather of Corbin. Tate was found dead of a self-inflicted gunshot wound.
    Officers were called to the Spillett home on 200 South shortly before 5 p.m. Sunday when they discovered the four bodies. Spillett used a semi-automatic rifle to kill the children and himself, according to police.
   Jill Parrish, a friend of the family, said she was stunned to learn of the deaths.
    "I mean, honestly, what can you say? It's beyond heartbreaking," Parrish said. "This is the hardest process I have ever had to try to comprehend."
    Spillett was in the process of getting a divorce with the children's mother, who was living in Illinois, Geddes said. She has returned to Preston
   "I just want everybody to know that she does appreciate all the prayers," Parrish said.
   Two fundraising accounts have been set up for the surviving family members to pay for funeral and other expenses.